Fr. Vladimir Berzonsky retires as Oca.org columnist after years of writing "Thoughts in Christ"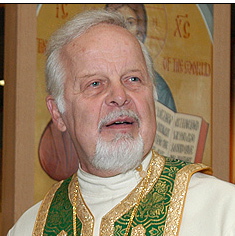 The Very Rev. Vladimir Berzonsky recently retired as rector of Holy Trinity Church, Parma, OH, where he has served since the early 1960s. A well known lecturer and author, he has represented the Orthodox Church in America (OCA) at numerous ecumenical gatherings around the world and has held a number of positions in the Church on the national and diocesan level. He has also been a member of the diocesan council of the Diocese of the Midwest and has written a popular column on Orthodox life and spirituality in The Orthodox Church.
"I feel it's time that I put an end to my 48 years of writing sequential articles for a parish," noted Fr. Vlad wryly, adding that he is also hanging up his Oca.org columnist hat. On the eve of his retirement, Fr. Vlad answered a few questions about his life and ministry.
1. Fr. Vladimir, you have been a parish priest for many years. Can you give us a brief snapshot of your years in the OCA — how you came to be a priest, where you served, and what were some of your favorite "extra" responsibilities?
I have been a child of the Orthodox Church in America, (in its previous name as well) since birth. The Church was always a presence in my life. I recall my mother Anna praying over my crib and her father, Peter, teaching me to pray and to read the Bible to me at an early age. I went from Mama's side to serve in the altar, thence to the choir loft; however, it never entered my mind to become a priest. I enrolled at Columbia University and St. Vladimir's Seminary because I hoped to discover answers to compelling questions I had, the primary being the deaths of those nearest to my soul: my grandfather and spiritual mentor, my Uncle Michael who taught me self-respect by treating a six year old like an adult, and my beloved father. I fear I was hardly a conventional seminarian, because my quest took me from the standard readings and included some subjects like psychology authors such as Berdyaev, Fr. S. Bulgakov, even now St. P. Florensky which were not on the ordinary menu. After graduation I taught for a while in the NYC high schools until invited, or perhaps compelled by Fr. Alexander Schmemann to apply for ordination to the priesthood.
2. How would you summarize all these years in a few sentences? What was your greatest joy, and your biggest challenge?
The first three years were spent living with our growing family at the top floor of the Pro-Cathedral of Holy Virgin Protection, the summit of bliss in my entire lifetime. To sit at the feet of my beloved Metropolitan Leonty, then Metropolitan Ireney, was a gift from Jesus Christ. As +Leonty phrased his response to my request to leave, "After three years in this city, nothing you will experience west of the Hudson will phase you." My delight was in serving the Church from the Department of External Affairs. I consider Fr. John Meyendorff my mentor and guide in that regard, taking part in the WCC Faith and Order Commission; representing the Orthodox Church in America at Syndesmos in Crete, 1980; the USA-USSR exchange through the NCCC, 1975, Russia; until the blessings of beginning a new parish in Parma, OH., which was an assignment continuing until my recent retirement.
3. What kind of writing have you done over the years, and how did you come to write for the website?
As a writer I accepted and responded to the religious plat du jour ("plate of the day") assigned by then editor of the TOC, Fr. Meyendorff, and my articles continued both for our national newspaper as well as a weekly article for our parish bulletin. I had written for other jurisdictions: the Antiochian Word and Romanian Solia, as well as for publications too numerous to mention.
4. What feedback have your readers given you, and how has that shaped your writing?
As for influencing my thoughts, a cliché of ecumenical Protestantism: "Society sets the agenda" (for the Church), we Orthodox Christians reply: Not exactly — the Holy Spirit through the Church defines and refines the world's agenda. Nevertheless, the decades of my priesthood have realized that through the sixties social welfare was paramount in forming Christian concern, in the seventies it was the death of God theology, and in subsequent decades such topics as science and religion, shifting morality and a consistent Judeo-Christian ethics, and Communism's challenge to the faith in Christ have been constant themes.
5. How have the demands of ministry and the needs of parishioners changed over time? Has your writing reflected any sort of evolution of thought or change in perspective as you've matured?
The demands of the ministry have been source and feedback into my thoughts and hence to my writing. The priesthood as an ongoing interface with the parish and community at large. It prevents and precludes any possible ivy tower abstractions. Each human life is both opportunity and encounter with actual situations and problems to be solved, ample material for consideration. I might add that having taught at various colleges and universities through the years provided additional inspiration to me.
6. What are your plans now in this new chapter of your life?
The happy blessing of retirement is the opportunity finally to pore through all of the "works in progress" that have made nothing like progress, lifting the guilt from my conscience in having avoided all too long the many stalled starts and abandoned ideas waiting patiently for my return, like a patient Labrador with sad brown eyes pleading to be called out for a romp.