Psalm 95
This is my last "Chancellor's Diary" entry until after Bright Week. But what a fitting psalm for today and these special days!
1. O, come let us worship and fall down, let us kneel before the Lord, our Maker (Psalm 95:6).
This is the normal entrance hymn for the Divine Liturgy, where we add the words "…fall down before Christ." He is our Lord and our Maker. He is the Word of God who "became flesh and dwelt among us" as we hear in the Gospel on Pascha night:
1 In the beginning was the Word, and the Word was with God, and the Word was God. 2 He was in the beginning with God; 3 all things were made through Him, and without Him was not anything made that was made. 4 In Him was life, and the life was the light of men. 5 The light shines in the darkness, and the darkness has not overcome it.

14 And the Word became flesh and dwelt among us, full of grace and truth; we have beheld His glory, glory as of the only Son from the Father.
2. O that today you would listen to His voice! Do not harden your hearts… (Psalm 95:7-8).
The services of Holy Week and Pascha are meant to soften our hard hearts. The epistle to the Hebrews read all through Lent repeats this one verse three times (Heb 3:7, 3:15, 4:7) in a reflection on Psalm 95 that looks to the longed-for and everlasting Sabbath rest that Christ opens to all through His Cross and Resurrection.
3. O come, let us sing to the Lord;
 let us make a joyful noise to the rock of our salvation!
Let us come into His presence with thanksgiving;
 let us make a joyful noise to Him with songs of praise! For the Lord is a great God,
 and a great King above all gods.

In His hand are the depths of the earth; 
the heights of the mountains are His also. The sea is His, for He made it,
 and the dry land, which His hands have formed.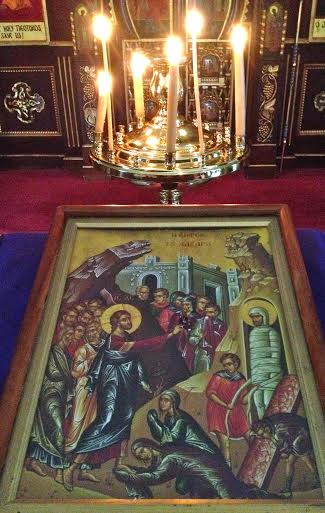 These five verses from Psalm 95 (1, 2-3, 4-5) are verses for the 3rd Antiphon of Lazarus Saturday. The God who created the earth, the mountains, the sea, the dry land—this infinite, inexplicable God became human, suffered, died and rose again from the dead. All to share with us His love, forgiveness and indestructible life.
Christ —the Joy, the Truth and the Light of All,
the Life of the world and its Resurrection—
has appeared in his goodness to those on earth.
He has become the Image of our Resurrection,
granting divine forgiveness to all.
(Lazarus Saturday, Kontakion)