Psalm 71: Trusting God Over a Lifetime
For thou, O Lord, art my hope, my trust, O Lord, from my youth.
Upon Thee I have leaned from my birth; Thou art He who took me from my mother's womb. 
My praise is continually of Thee…

O God, from my youth Thou hast taught me,
and I still proclaim Thy wondrous deeds.
So even to old age and gray hairs, O God, do not forsake me,

till I proclaim Thy might 
to all the generations to come.

(Psalm 71: 5-7, 17-18)
Like many of the psalms, this one too is a prayer during times of oppression and affliction. But it is also a reflection from someone who has been through this before, repeatedly, over his lifetime. From infancy, to childhood, through youth and "even to old age and gray hairs" he has sensed the guiding, comforting, steadfast presence of God in the midst of personal distress. Not everyone is as blessed. But however and whenever that awareness and gratitude begins in us, may we for the rest of our lives seek to be His presence to others, beginning with our children and grandchildren.
Alaska and Ukraine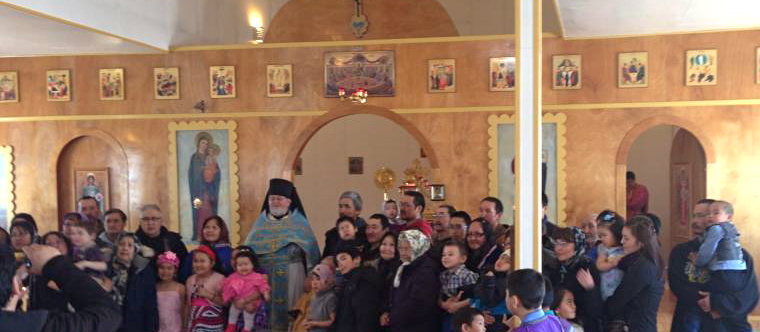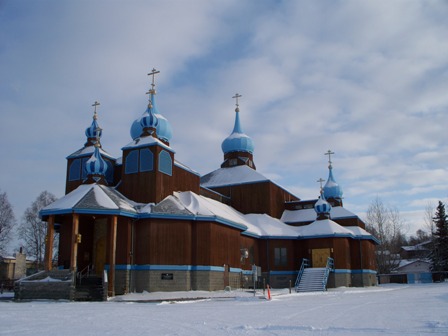 Archbishop Benjamin, Bishop-elect Archimandrite David (Mahaffey) and a delegation of clergy, their families and faithful from the Diocese of Alaska were at the Anchorage airport to greet Metropolitan Tikhon and Bishop Irénée and those of us who accompanied them when we arrived at 11 pm last night. The city is blanketed with new snow. At 6 pm this evening we will be gathering at the Cathedral of Saint Innocent of Irkutsk for Vespers and Father David's formal acceptance of his election as Bishop of Sitka and Alaska.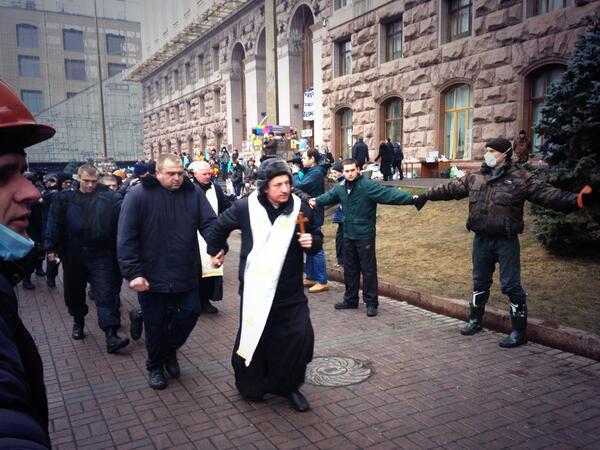 Meanwhile, violent events on the other side of the world in Ukraine are a reminder of why we have bishops and church life at all. God Himself entered the world, suffered and died on the Cross for the love and life of the world. He could not endure the evil, ugliness and destruction oppressing His people and His creation. And having opened the way for salvation from all this He places the Church in the midst of this world, led by her bishops, as an oasis of hope.
Professor Paul Meyendorff of Saint Vladimir's Seminary was in Kyiv until yesterday for a theological conference and wrote this message to SVS:
I am sitting at the airport in Kyiv waiting for my flight to London, and then New York.

The situation in Kyiv is deteriorating rapidly and civil war is breaking out. The truce reached last night was short-lived, and now members of the opposition are shooting at soldiers from rooftops in central Kyiv. Before I left for the airport, I attended a memorial service at the Lavra cathedral for all those killed. Presiding was Metropolitan Antonii, current administrator of the [Ukrainian Orthodox Church/Moscow Patriarchate].

As it is, the Lavra is on lockdown, with trucks blocking all entrances and soldiers outside.

Fortunately, for the time being the worst violence is in the city center, and I had no problem getting to the airport, though I saw several military checkpoints on the highway in the direction of Kyiv.

I am glad to be heading home, but the people of Ukraine need all our prayers.