Psalm 55
I am distraught by the noise of the enemy,
because of the oppression of the wicked.

(Psalm 55:2-3)
Psalm 55 is read on Holy Thursday and Holy Friday as we recall Christ's betrayal, his anguish in Gethsemane, his arrest, suffering and crucifixion. These events are also remembered daily at the Sixth Hour, and Psalm 55 is read then too.
The psalm has many echoes of the Passion. Jesus doesn't want to face all of this, and He asks the Father to "take this cup away from me." Likewise, David prays,
O that I had wings like a dove!
 I would fly away and be at rest;
yea, I would wander afar…I would haste to find me a shelter 
from the raging wind and tempest.
Jesus is betrayed by his friend Judas, one of the twelve, chosen, closest disciples, who spent three years walking side by side with Jesus up and down Palestine, sharing meals with him, listening to his teaching and witnessing his miracles.

It is not an enemy who taunts me—
then I could bear it; 
it is not an adversary who deals insolently with me—
then I could hide from him.
But it is you, my equal,
 my companion, my familiar friend.
We used to hold sweet converse together;
 within God's house we walked in fellowship.
Nevertheless, Jesus goes to the Cross trusting in His Father, "…Into Thy Hands I commend my spirit."
Evening and morning and at noon 
I utter my complaint and moan,
 and he will hear my voice.

He will deliver my soul in safety 
from the battle that I wage,
 for many are arrayed against me.

Cast your burden on the Lord,
 and he will sustain you…
* * *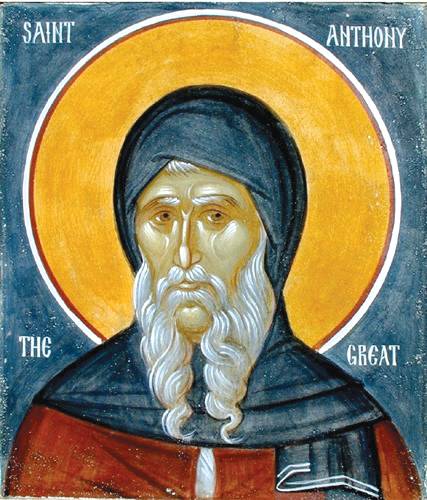 Today we commemorate Saint Anthony the Great (c. 251-356), one of the founders of monastic life, also known as the inner way of hesychia, stillness, tranquility, silence. There is no greater enemy of inner stillness than the "noise of the enemy." Around us and especially within us this "noise" confuses, distracts, oppresses and derails us from following Christ in singleness of purpose. Saint Anthony taught that this noise of the passions must be consciously cut off and sacrificed on our inner altar, as we ask God to come down and consume them with His fire (from Letter VI).
Everyone who delights in his own will, and is subdued to his own thoughts…the soul of such a man is a lair of evil spirits, counseling him to evil… and over such a one the demons have great power…. They are not bodily visible, but you must know that we serve as bodies for them, for our soul receives their wickedness, and when it receives them, then it brings them to manifestation by the body in which we dwell. Now, then, my children, let us give them no place….

Lift up your body in which you are clothed, and make it an altar, and set thereon all your thoughts, and leave there every evil counsel before the Lord, and lift up the hands of your heart to Him, that is, to the Creator Mind, and pray to God that He may grant you His great invisible fire, that it may descend from heaven and consume the altar and all that is on it…. Strive to offer yourselves as a sacrifice to God always, and give gladness to the power that helps you… and to all the band of the saints…

[I pray that] since we are all created of the same invisible substance, which has a beginning but no end, we may love one another with a single love. For all who know themselves, know that they are of one immortal substance…. Therefore we are all members one of another, and the body of Christ. Therefore we ought greatly to love one another. For he who loves his neighbor, loves God; and he who loves God, loves, too, his own soul.
Chancery Update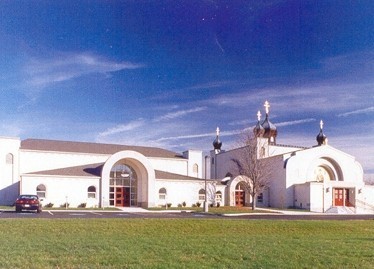 His Beatitude returns today from Washington DC, where he participated in the annual conference of church endorsers of military chaplains. I will be on my way to Bethlehem, Pennsylvania this afternoon for two assemblies of the Diocese of Eastern Pennsylvania. This evening the diocese will gather with its locum tenens, Bishop Melchisedek of Pittsburgh, to hold a special assembly for nominating a candidate for Bishop of Philadelphia, the see that became vacant when Metropolitan Tikhon was elected primate. Tomorrow, the 50th regular Diocesan Assembly will be held.