Psalm 56
For the director of music. To the tune of "A Dove on Distant Oaks." Of David. A miktam. When the Philistines had seized him in Gath.

Thou hast kept count of my tossings; put thou my tears in thy bottle!

Are they not in thy book?
Then my enemies will be turned back
 in the day when I call.

This I know, that God is for me.

(Psalm 56: heading, 8-9)
We don't know exactly what "A Dove on Distant Oaks" sounded like but once again we see what were once clear instructions for musicians, not unlike Orthodox liturgical music, that specifies a hymn's tone or special melody. And again we see the heading giving us the biblical context—1 Samuel 21—of the psalm as it was handed down in the Jewish community. David was being chased from place to place by Saul, once his protector and patron and now his enemy and persecutor. David sought to hide among the Philistines but as soon as his identity became known he was in danger.
So he pretended to be insane in their presence; and while he was in their hands he acted like a madman, making marks on the doors of the gate and letting saliva run down his beard (1 Sam 21:13).
The psalm is a touching prayer of one who feels abandoned by all and yet knows that God sees the deepest secret sorrows of his heart. Thou hast kept count of my tossings;
 put thou my tears in thy bottle!
 Are they not in thy book? With the world against him, David can still say, "This I know, that God is for me."
Saint Paul may well have these had these words in mind when he wrote Romans 8:31-39, for Christians who were undergoing hardship and persecution:
If God is for us, who can be against us? He who did not spare his own Son, but gave him up for us all—how will he not also, along with him, graciously give us all things? Who will bring any charge against those whom God has chosen? …

Who shall separate us from the love of Christ? Shall trouble or hardship or persecution or famine or nakedness or danger or sword? …
No, in all these things we are more than conquerors through him who loved us.

For I am convinced that neither death nor life, neither angels nor demons, neither the present nor the future, nor any powers, neither height nor depth, nor anything else in all creation, will be able to separate us from the love of God that is in Christ Jesus our Lord.
Eastern Pennsylvania, Martin Luther King and the Sanctity of Life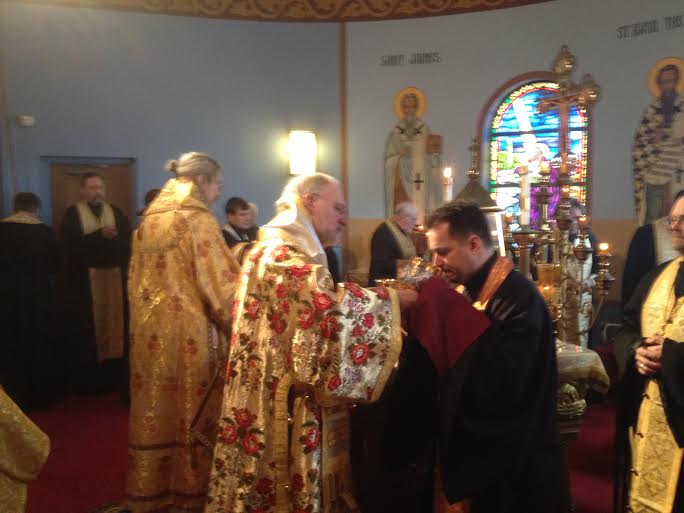 Last Friday and Saturday I was with the Diocese of Eastern Pennsylvania as they nominated Bishop Mark as their diocesan bishop and then had their 50th annual assembly as a diocese. It was an inspiring two days to see bishops, clergy and faithful committing themselves in practical ways to the work of Christ and the Church. Those who weren't there for the nomination may have doubts about the process since there was only one candidate, Bishop Mark. In fact, the Holy Synod had put forward two candidates but one declined. Nevertheless, it was made very clear to the assembled delegates that they still had a voice and that this was no Communist-style, "all vote yes" election. They could write in Bishop Mark's name as the nominee or not. And if enough people left their ballots blank, that would send a signal to the Holy Synod to go back to the drawing board and bring other candidates. In the end, after each delegate had placed his or her ballot in the chalice, Bishop Mark received 75% of the vote, well exceeding the 2/3 needed to have just one ballot and send his name in nomination to the Holy Synod.
* * *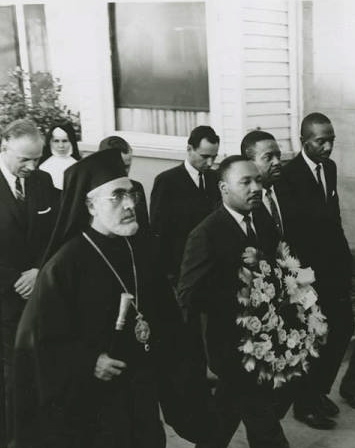 Yesterday was of course Martin Luther King, Jr Day, and I went with my wife to a community church service in Westbury, Long Island commemorating the day. We were there (unofficially) as part of a congregation that brought together a number of churches, but the people were from predominantly black churches. It was a stirring morning of scripture readings, hymns and prayers built less around the memory of Dr King than on what each of us is called to do today to advance the Kingdom of God. In his sermon Pastor Stanley Williams of Grace Temple Church of God in Christ recalled Dr King's famous "I have a dream" speech, but said "That was his dream. What is your dream?" More than this, King became a threat in the eyes of opponents only because he was willing to speak about and act on his dream. "Are you willing to say your dream out loud and act on it?" This takes courage and patience. Speaking to pastors and church leaders in particular, he said, "You may have to plant a tree under whose shade you may never get to sit… I don't mind if I'm an old man, as long as I'm a dreamer."
Looking around at the mainly middle-aged and elderly black congregation, it was obvious that many would have lived through the most difficult days of racial injustice and the Civil Rights Movement. And still they remain faithful to a vision of the Kingdom that transcends race and politics and personal suffering. It's uplifting to be among such people.
* * *
Today His Beatitude, his assistant Roman Ostash, Father Eric Tosi, and I will drive down to Washington DC to join thousands of people coming from across the US for the events marking the annual March for Life. Metropolitan Tikhon will preside at vespers tonight at Saint Nicholas Cathedral, while Archbishop Nathaniel and Father Eric have been invited to represent the OCA among the ecumenical guests at the special mass at the Roman Catholic National Shrine.