Psalm 59
When Saul had sent men to watch David's house in order to kill him.

Deliver me from my enemies, O my God, protect me from those who rise up against me,
deliver me from those who work evil,
and save me from bloodthirsty men.
(Psalm 59: heading, 1-2)
These verses of Psalm 59 are sung on Holy Thursday as we commemorate our Lord's betrayal and the violence and mockery that surrounded Him. Jewish tradition put this psalm in the context of Saul's murderous envy of David in 1 Samuel 19. David had been a trusted general and the closest friend of Saul's son Jonathan, but his popularity made Saul extremely jealous, to the point of Saul wanting David exterminated. Jonathan begged his father to relent but to no avail. Finally, word of the plot against his life came to David's wife, Michal. She pressed him to get away immediately and he escaped through the bedroom window.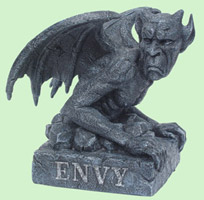 Envy is a passion that stalks everyone's life, to one extent or another, starting from Cain's envy of Abel. Envy makes us unhappy and unpleasant to be around. Envy poisons our relationships. What then can we do about it? We can put that envy on the altar and ask God to consume it. We can actively take the focus off ourselves by looking out for the needs of others. And we can consciously be more thankful for the blessings we have.
Here's more practical advice from Dr Phil (drphil.com/articles/article/340.)
Steps to take to overcome envy:
You own this. You have to recognize that this is all about you. The good news is you can control this.

Deconstruct these feelings. The first thing you need to do is require more of yourself. Quit worrying about what your sister has, what your neighbors have, what cars your friends drive. Instead, get up every single day and focus on the things that you are thankful for. Focus on the gifts that you've been given. Focus on the talents you have, the people in your life, the opportunities that are before you. Spend enough time thinking about it every day, so that it outweighs the amount of time you spend thinking about the negatives.
You may be creating a problem out of perception. Do you really have problems? If you're healthy, if your children are healthy, if you're not dealing with a horrible situation that really is a problem, take notice. Dr. Phil's father used to tell him, "Pay attention, because every once in a while God just taps you on the head to get your attention, and if you don't catch it the first time, He might thump ya. And if you don't catch that, then He might just slap you on the top of your head." The point being: You don't want anything to happen in your life that provides a contrast that gives you a wake-up call.
You thought your way into this, now think your way out of it. You choose your thoughts, you think the thoughts that you choose, and that is how you got these feelings of envy. The choices you've made have gotten you into this situation, so make new choices. Change your thoughts, change the values that you're embracing and the beliefs that you're holding near and dear. A magic wand is not going to fix this. Make some different thought patterns that will really begin to challenge what you've been telling yourself.
Sanctity of Life, Christian Unity, Ukraine, SVS Board
The March for Life is a stirring event. How often, in our fragmented world, do hundreds of thousands of Christians—many of them high school and college students—come together in such unity of spirit? Yes, there are difficult angles that the various churches and pro-life groups take. And of course one doesn't have to be a Christian to value life growing in the womb. Just ask anyone, of any religion or no religion who has seen a pregnant mother's ultrasound of her baby. But this year, being at the interdenominational Christian prayer service for the first time, I was struck by our common faith in Christ and common desire to speak up for the rights of those children in the womb. As it happens, the March for Life comes during the Week of Prayer for Christian Unity (Jan 18-25). Here is one of the prayers we joined in praying that day:
Almighty Father, whose blessed Son before His passion prayed for his disciples that they might be one, even as You and He are one: Grant that Your Church be bound together in love and obedience to You. Unite us as one body by Your One
Spirit, that the world may believe in Him whom you sent, Your Son Jesus Christ our Lord; who lives and reigns with You, in the unity of the same Spirit, one God, now and forever. Amen.
* * *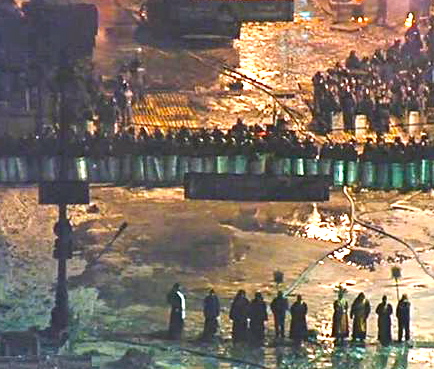 I don't need to remind everyone to pray for the people of Ukraine during these troubling days. But I can't help remembering the contrast this past summer being in Kyiv, driving through the peaceful main square where the protests and violence are now centered, on the way to the Caves Monastery where we celebrated with thousands the 1025th anniversary of the Baptism of Rus'. Monks from the monastery are on the square praying during the standoff (www.pravoslavie.ru/english/67835.htm).
* * *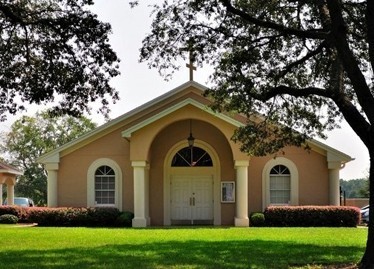 Today His Beatitude and I will be flying to Orlando, Florida for the Saint Vladimir's Seminary Board of Trustees retreat tomorrow. Why Orlando? Board members come from all over the country, there are lots of flights, the airport is convenient, the hotel is right there, and in January it's a lot warmer than New York. But most importantly, a retreat—in contrast to a regular business meeting—needs to be away from normal surroundings, to open everyone up to new possibilities, fresh thinking and deepening relationships. Every board—from parish council to Holy Synod—ought to take time periodically for a retreat.
On Sunday we will be with Father Daniel Hickman and the parishioners (including SVS Board member Anne van den Berg) of Saint Stephen the Protomartyr Church for the Divine Liturgy.