From London to Moscow
From now until August 1st I'll be in the air, on trains and on the road with Metropolitan Tikhon and a small delegation from the Orthodox Church in America in Russia, Ukraine and Belarus at the invitation of Patriarch Kirill of Moscow to celebrate the 1025th anniversary of the Baptism of Rus'.
At the moment I'm in London's Heathrow airport waiting for a flight to Frankfurt where I'll join His Beatitude and Bishop Alexander on the plane for Moscow. I was in England with my wife Denise to have a vacation with son Andrew and daughter-in-law Alice who live in London, and—please forgive proud parent syndrome—to attend last Thursday his PhD graduation from the London School of Economics. His dissertation was titled, From Faith in Rules to the Rule of Law: Constitutional Responsibilities in International Society. He'll be staying at the LSE for the next year as a post-doctoral Fellow in International Relations Theory. It's all the more special for us because my late father was from London and finished at LSE in 1950, the first in his family to go to university.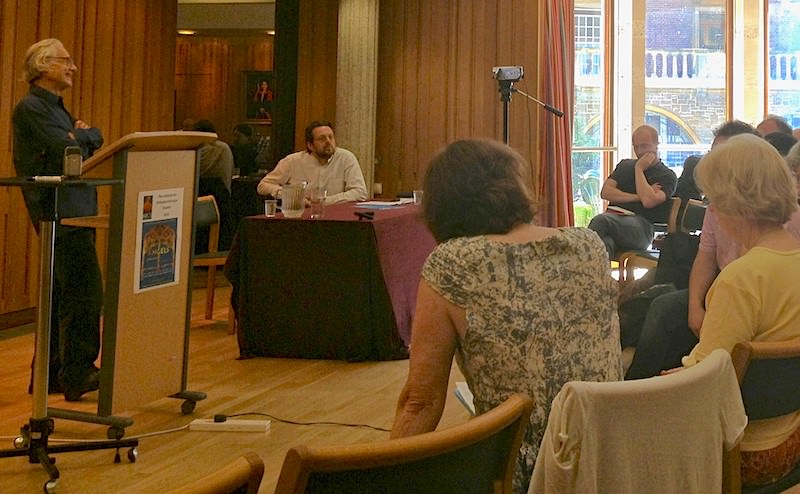 Yesterday Denise and I took the train to Cambridge, where we lived for eight years, to visit the Institute for Orthodox Christian Studies, which we both had a hand in founding. Many in the OCA will be familiar with the Institute through its innovative video introduction to Orthodox Christianity, "The Way." The 14th annual summer school was just ending and we were blessed to catch Dr. Sebastian Brock's lecture on angels in the Syriac tradition. Metropolitan Kallistos (Ware) remains a pillar of the Institute's life and Board of Directors, and was lecturing earlier in the week. We also had a chance to visit the new Institute home, "St Gregory Palamas House." Prof. David Frost (Principal), his wife Dr. Mangala Frost and a small team have been the driving force behind this phase of the Institute's life. One more OCA connection: Dr. Marcus Plested, the Institute's Vice-Principal, will be moving in August to the United States as Professor of Patristics at Marquette University, following Bishop Alexander (Golitsyn) who resigned when he was consecrated Bishop of Toledo.
Highlight of the day was catching up with Fr. Raphael, Carolyn and Nicholas Armour who succeeded us at St Ephraim's parish in Cambridge. The Armours spent many years living in New York and attending St. Vladimir's Seminary Chapel before they returned to England in 1995.
The flight is now being called, so that's all for now. Next diary entry, God willing, will be from Moscow.