Moscow: Sunday July 21st
Greetings from Moscow! His Beatitude, Bishop Alexander and I were immediately plunged into the celebrations of the Russian Orthodox Church when we arrived at Domodedovo airport and were swept away by a welcoming delegation of bishops, representatives of the Department of External Church Relations, priests, deacons, subdeacons and our own Archimandrite Alexander (Pihach), Dean of Saint Catherine's, the OCA's representation church. Our group is being accompanied in Moscow by Bishop Clement of Krasnoslobodsk and Temnikov, and Father George Roshchin, who was recently assigned by the Moscow Patriarchate to New York (working with the United Nations).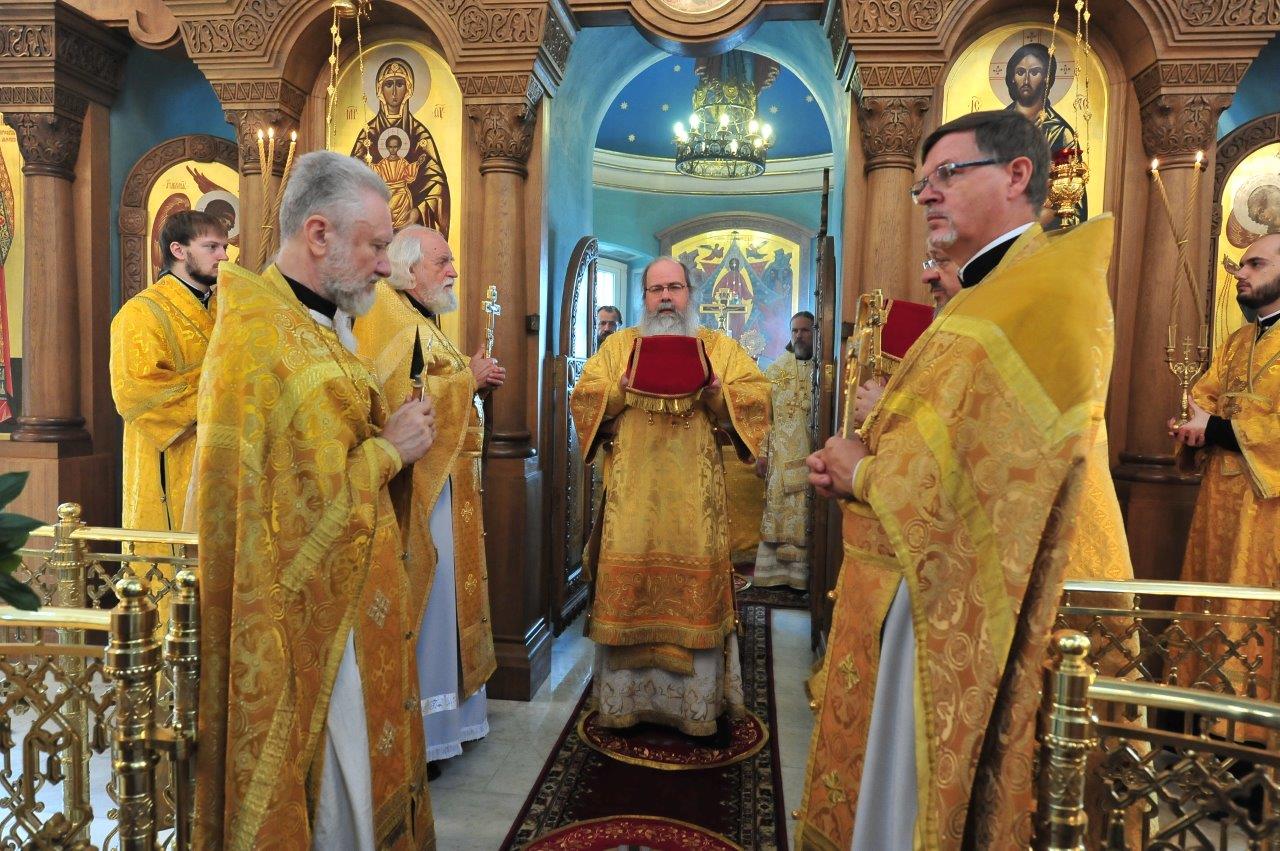 Sunday we celebrated the Divine Liturgy at Saint Catherine's and then His Beatitude blessed a plaque commemorating 220 years since Catherine the Great commissioned a missionary team to be sent to Alaska. There is much interest here in the Russian-Alaskan connection. After a buffet on the parish grounds we went to Donskoy Monastery to venerate the relics of Patriarch Tikhon of Moscow and to spend a little time with the brotherhood. They were curious about the life of Orthodox Christians in North America, and particularly what factors prompt people of no eastern ethnic background to join the Orthodox Church. In a long interview with a reporter from pravmir.ru, His Beatitude had the opportunity to answer these and many other questions about the OCA and the North American scene. Later in the evening we went to the Pokrov women's monastery to venerate the relics of Saint Matrona, now by far the most venerated saint in Moscow. There is a constant stream of thousands of pilgrims. The sisters and women of the community sang angelically and then hosted us for supper.
Today our program includes a visit to Butovo, the 1930's "killing fields" where so many believers were put to death for their faith. Late in the afternoon we will meet with His Holiness, Patriarch Kirill.
A photo gallery can be viewed on the OCA web site and Facebook page.