Minsk: Day 10 (July 30), final day of the pilgrimage for the 1025th anniversary of the baptism of Rus'
The official program was over but we still had a day of excursion and visits in Minsk. In the morning we went to the Saint Elizabeth Convent on the outskirts of Minsk to see something of the awe-inspiring work that God has accomplished through the nuns and lay sisterhood and brotherhood. The site has long been a hospital for adults and especially children with serious mental and physical disabilities. Most of the children are orphans (10% have parents who visit). In 1993 a group of Orthodox Christian lay women began visiting and assisting the overstretched staff to care for the patients and with children especially to give the time and affection that are so badly needed. Gradually, under the guidance of a local priest (Father Andrey), the work flourished and expanded. A number of the women felt called to begin a monastic community. Twenty years later the community has grown to 110 nuns (about 25 are novices) and some 300 lay sisters and brothers. The hospital serves about 2000 inpatients outpatients. A permanent priest is assigned for regular services, but another seven priests help distribute communion during the week to room-bound patients. Around this basic vocation the monastic community has built churches and chapels, and now under construction are a huge guest house, a four-story educational building and another building for conferences and exhibitions. In addition, there are workshops for iconography, mosaics, carpentry, stone-work, metal-work and glasswork. As Sister Maria, one of the original group of women who became nuns, told us, "We never planned to have such a big community. We just wanted to help people who are physically and mentally disabled, and those who are addicted to alcohol and drugs. And God blessed us." The professional medical staff whom we met said how crucial the monastery's help has been to the physical, mental and spiritual well-being of the patients in this state institution.
From the convent we went to the offices of Archbishop have lunch with the Roman Catholic Archbishop of Minsk, His Excellency Tadeusz Kondrusiewicz. He welcomed Metropolitan Tikhon and our delegation very warmly for lunch, and emphasized the good relations between himself and Metropolitan Filaret of Minsk (they have known each other since 1989, when Archbishop Kondrusiewicz was first assigned as Bishop of Grodno in Belarus after being consecrated by Pope John Paul II. Later, Metropolitan Filaret confirmed the good relations they have enjoyed.) About 600,000 people or about 15% of Belarus is Roman Catholic (there are only very few Greek Catholics, about 6,000 he estimated) and many families have mixed marriages. At his cathedral there are 3 masses daily and 6 on Sundays.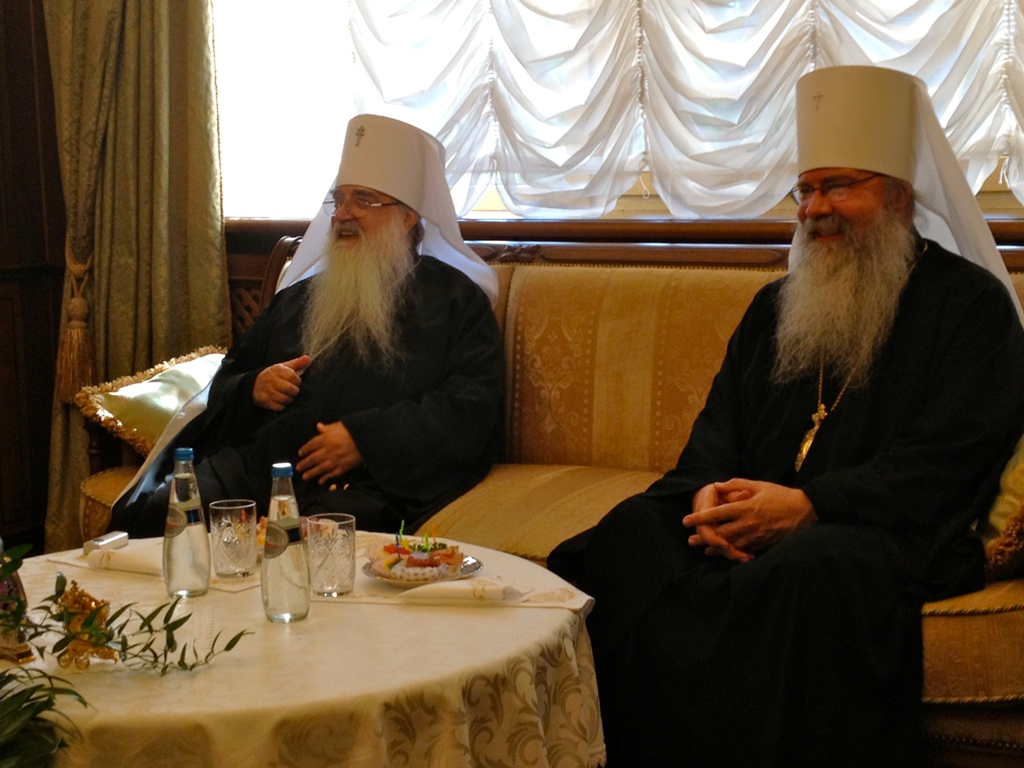 From there we went back to the hotel for a short rest and then boarded the bus again to visit with Metropolitan Filaret of Minsk at his diocesan headquarters (the first building Soviet authorities allowed the Church to build, in the 1980's). We saw pictures hanging in the hallway of the many new churches built in the last 30 years. In 1981 there was one diocese in Belarus, 1 monastery and 370 churches. In 2013 there are 11 dioceses, 36 monasteries and 1,597 churches. Metropolitan Filaret welcomed His Beatitude, showed him into the chapel and presented Metropolitan Tikhon with an exquisite reliquary with a relics of Saint Euphrosinia of Polotsk, granddaughter of Saint Vladimir who was princess, nun and founder of the Church in Belarus.
After a cup of tea with Metropolitan Filaret and some of his staff, and further conversation about the life of the Belarusian Church and some contemporary issues—including the Church's opposition to capital punishment (together with the Roman Catholic Church in Belarus)—we returned to the hotel to prepare to leave for the 5:00 am flight this morning from Minsk airport.
Meanwhile, Father Alexander [Pihach]'s work was not over: the nuns at Saint Elizabeth Convent asked him to record a Great Litany in English for a CD they will be doing of the Divine Liturgy.
A photo gallery can be viewed on the OCA web site and Facebook page.