Psalm 26
I wash my hands in innocence, and go about Thy altar, O Lord, singing aloud a song of praise, and telling all Thy miracles. O Lord, I love the beauty of Thy house, and the place where Thy glory dwells. Do not sweep my soul away with sinners, nor my life with blood-thirsty men, men in whose hands are evil devices, and whose right hands are full of bribes. But as for me, I walk in my integrity; deliver me, and have mercy on me. My foot stands on level ground; in the churches I will bless the Lord.

(Psalm 26:6-12, prayer of washing hands before the Divine Liturgy)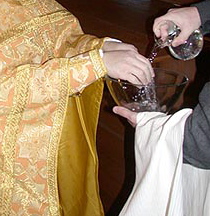 Before the Divine Liturgy begins bishops and priests wash their hands while saying these verses from Psalm 26. Notice the words, "I walk in my integrity." Those same words are found in the first verse too. "Vindicate me, O Lord, for I have walked in my integrity…" (although the Septuagint Greek here uses the word "innocence", akakia).
According to the dictionary, "integrity" is the state of being whole and undivided. What that means was illustrated for me when I was visiting Holy Transfiguration Monastery in Ellwood City, PA last weekend and came across an issue of their journal, "Life Transfigured" (44, #3, Nativity 2012). It includes an interview by Matushka Valerie Zahirsky with the abbess, Mother Christophora, who speaks about what influenced her commitment to the Church.
First, my own parents and their faithfulness—I do not want to really say "piety," because that gives the impression of a lot of external practices—but I would say their faithfulness and their total integrity and lack of hypocrisy. I think my parents really lived the Christian life, but did not talk about it; they just lived it. They did not preach to us or really do a lot of externals, but their life was what it was. There was no hypocrisy; there were no lies. They were good hearted and they helped people all the time. They were just very sincere, very dedicated to the Church, totally dedicated to the Church. That is the first thing.
"There was no hypocrisy; there were no lies." What a good picture of walking in integrity.
Visitor to Archives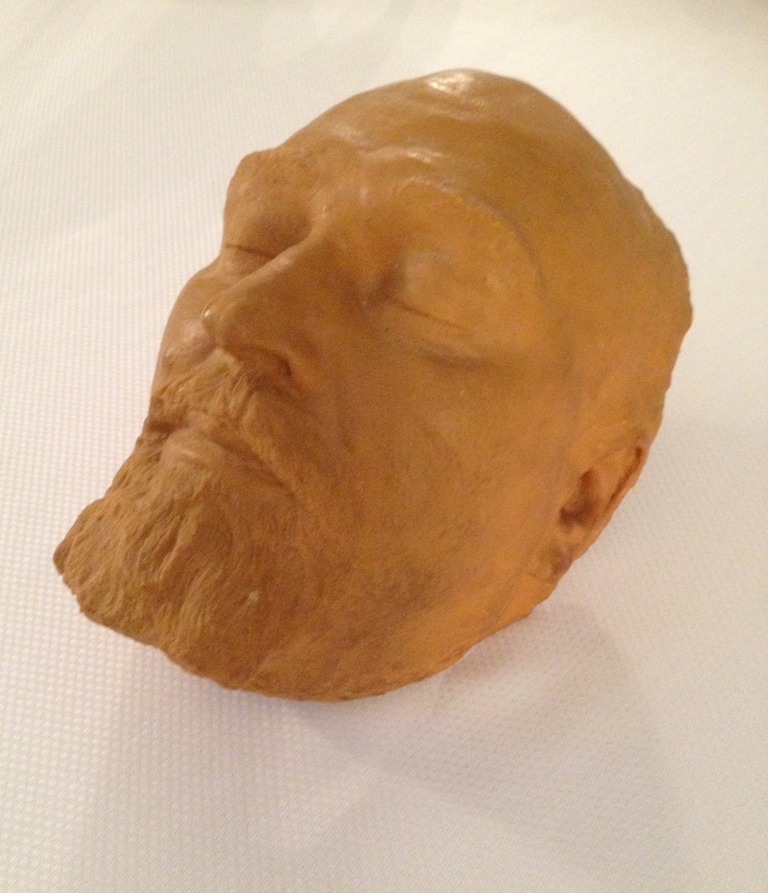 Victor Maslov visited Alex Liberovsky and the OCA Archives yesterday to do some research and to present us with a number of letters, journals, newspaper clippings and artifacts related to his grandfather, John Kedrovsky (1879-1934), including—most curiously—his death mask.
Kedrovsky has an infamous but significant place in the history of Orthodoxy in North America. He was a married priest who was suspended in 1918 by Archbishop Alexander (Nemolovsky) but went to the Soviet Union in 1923 to participate in the "Council" of the "Renovated Church" that collaborated with the Bolshevik government and deposed Patriarch Tikhon. The "Living Church" as it was also known had re-introduced the practice of having married bishops, and at that same council Kedrovsky was appointed as "Archbishop of North America." He returned to the US and in 1924 initiated a court action to seize control of over a hundred church properties. He was largely unsuccessful, except for a major victory in 1925 when he and the Renovated Church were recognized by the US courts as the legitimate owners of St Nicholas Russian Orthodox Cathedral on 97th Street in New York City. Metropolitan Platon and his clergy had to leave the cathedral that had been built under the direction of Saint Tikhon when he was Archbishop of North America.
May God grant forgiveness of sins and eternal rest to John Kedrovsky, and may the visit of his grandson be the final seal of reconciliation after all these years.