Psalm 14
"The fool says in his heart, 'There is no God.'"
(Psalm 14:1)
This verse is not so much about principled atheists, but practical atheists, which we all are in those dark moments when we stubbornly follow our own will and passions and eclipse God from our decision-making. Liturgically we use this verse at the 9th Hour on Holy Friday, as Jesus hangs on the Cross surrounded by abusers and abandoned by almost all his friends. In those terrible hours when the disciples turned away from Jesus did they not become atheists as much as the crucifiers?
Many self-described atheists are led to their philosophical stance because they know they would have to give up entrenched and precious aspects of their behavior if they acknowledged a higher power who makes claims on them. But there are also who atheists who lead exemplary lives of service and self-sacrifice and reject religion for honorable reasons, so I would want to be careful about making sweeping judgments. Indeed, the late Father John Meyendorff said we Orthodox should take the trouble to get to know more atheists in order to better understand how we might bring the Gospel into their lives.
Another verse to notice is 14:5. The ancient Greek translation (the Septuagint, or LXX for short) says, "There they have feared with fear where there is no fear." The proud and powerful who shame the weak and abuse the poor are eventually consumed by their own imagined fears, while those who put their trust and hope in the Lord are at peace even in times of real distress.
Curiously, Psalm 14 is almost identical to Psalm 53.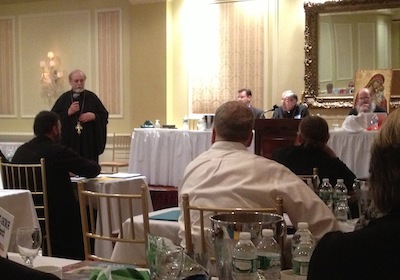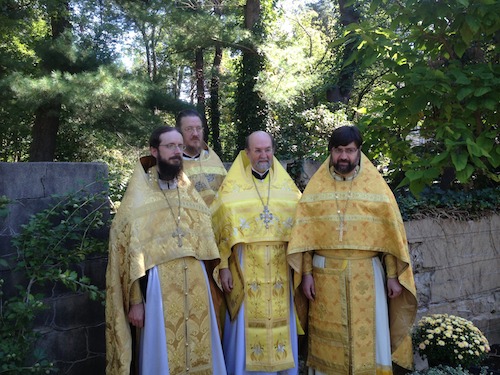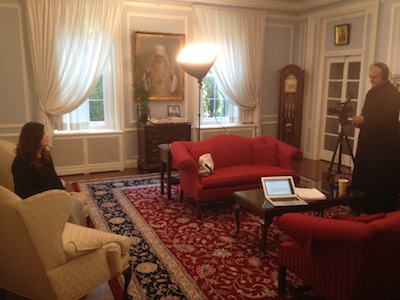 Update
It has been a very full few days at the Chancery. On Friday, after last week's Metropolitan Council meeting His Beatitude and I attended the annual Assembly of the Albanian Archdiocese, hosted by Saint Nicholas Church (Jamaica Estates, NY). I was struck by the influx of new Albanian immigrants in the last twenty years and the impact this is having on some local parishes. For example, with the help of the Archdiocese the parish in Worcester, MA—one of the centers of immigration—is starting an after-school program for immigrant youth. Also of deep concern to the Assembly is the potential for religious strife in Albania being stirred by Islamists.
Saturday we had an outdoor Liturgy at the Chancery to celebrate the seminaries' anniversaries. What a spectacularly beautiful day. As someone remarked, the massive pines surrounding the walled garden gave the feeling of being in a living green cathedral.
Monday I took the day off with my wife to celebrate our 34th wedding anniversary.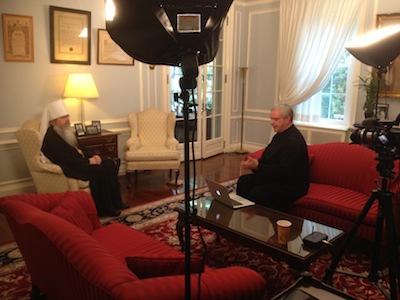 Yesterday Father Basil Summer presided at an early morning Divine Liturgy for the feast of the Protection, followed by a simple "Breakfast with Basil" for those who came to the feast. In the afternoon, Father Ian Pac-Urar, director of the Department of Continuing Education, brought equipment to film a training video on "Healthy Boundaries and Sexual Misconduct."