Psalm 22
My God, my God, why hast thou forsaken me?
Why art thou so far from helping me, from the words of my groaning?

O my God, I cry by day, but thou dost not answer;
and by night, but find no rest.

(Psalm 22: 1-2; Elevation of the Cross, 1st Antiphon)
Psalm 22 is the psalm of Christ's crucifixion, and is read on Great and Holy Friday at the First hour, Matins and Vespers. Metropolitan Anthony Bloom (1914-2003), who was my bishop for the eight years I lived in England, said that Christ's cry from the cross, "My God, my God, why hast thou forsaken me?" (Mark 15:34) is at the core of our salvation. It is here that Christ identifies completely with the deepest human tragedy: the sense that God isn't there, isn't listening and isn't answering.
It is impossible to die without having lost God, and the cry of the Savior: My God, My God! Why have you forsaken Me? – is the cry of the perfect Human, who freely, because of love, took to himself the main tragedy of the person – his isolation from God, his sense of having lost God.
He shared with us not only physical death. The only reason the person dies is because of the loss of God; they die in losing God… That is why the person dies: the price of sin is death, and sin is separation from God. Christ has shared with us this loss of God: He experienced, as no one else on earth, the measure of the loss of God and what it means to be without God.
Our Lord cried out in abandonment. Maybe He was quoting Psalm 22. Or perhaps after witnessing His death the evangelists recognized that the crucifixion fulfilled the psalm's prophetic words. But whatever the source of His cry, nothing should obscure the reality of Christ's experience of God-forsakenness. And in this, He redeems all who have ever experienced the same.
(For these citations from Metropolitan Anthony I am grateful to Father Roman Rytsar, with whom I worked at Saint Paul University in Ottawa as he was doing his doctoral dissertation on The Kenotic Theology of Anthony Bloom, Metropolitan of Sourozh (1914-2003) in Anthropological Perspective.)
Seminaries 1% Appeal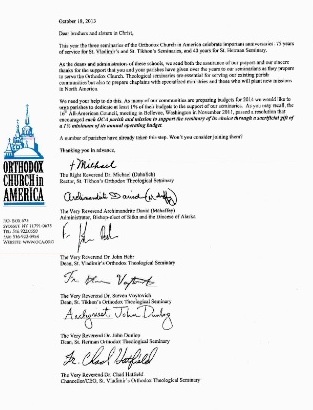 As you may have seen yesterday [see story], for the first time the deans and administrators of the Orthodox Church in America's three seminaries have signed a joint letter asking parishes to give 1% of their income to support the seminary or seminaries of their choice. The future of our church depends on having well-trained pastors, teachers, choir-directors, chaplains, counselors and lay leaders. Students and their families make significant sacrifices to serve the church but they and the seminaries need our partnership. If your parish or diocese is already giving at least 1%, that's wonderful and we thank you. If not, then please do what you can to place this proposal on the table at your annual parish meeting. Thank you and may God bless your efforts!