Psalm 16
As for the saints in the land, they are the noble in whom is all my delight.
I keep the Lord always before me; because he is at my right hand, I shall not be moved.
(Psalm 16:3,8)

Therefore my heart is glad, and my soul rejoices; my body also dwells secure.
For thou dost not give me up to Sheol,
or let thy godly one see the Pit.
(Psalm 16:9-10)
In great literature there are always multiple layers of meaning. So too in the Psalms. In Psalm 16, for example, we have at least three layers that point us to Christ, to the saints, and to personal experience.
In Acts 2:25-33 the Apostle Peter, speaking to the Jewish crowds on Pentecost, quotes David's prophetic words in Psalm 16:8-10 (from the Greek Septuagint translation) as pointing to the risen Messiah.
For David says concerning him,

'I saw the Lord always before me,
for he is at my right hand that I may not be shaken; therefore my heart was glad, and my tongue rejoiced;
moreover my flesh will dwell in hope.

For thou wilt not abandon my soul to Hades,
nor let thy Holy One see corruption.

Thou hast made known to me the ways of life;
thou wilt make me full of gladness with thy presence.'
Saint Peter and the Church with him reads the psalms in the light of Christ, in light of their living experience of Christ.
Similarly, verses 3 and 8 of Psalm 16 are used liturgically for services to martyrs and saints, those faithful witnesses who imitated Christ and kept the Lord "always before them" and in so doing remained unshaken and unmoved in the midst of temptations and suffering.
Finally, in addition to these resonances with Christ and the saints, the psalms also have a deeply personal dimension, which is a powerful reason they have remained perpetually in use for over three-thousand years. Psalm 16 is a reaffirmation and recommitment of personal faith. It says, "Yes, Lord, You are the center of my life and everything else is secondary. You are my 'chosen portion.' You and your saints are the ones I take as my models for living. You are the One who is always with me, giving me counsel day and night, even as I sleep, showing me the paths that lead to life. Time and again over a lifetime, I have learned that 'In Your presence there is fullness of joy.' And for all of that I am filled with gratitude."
Update
The unexciting, normal tasks and background work characteristic of administration have dominated the past couple of days. That, after all, is what the Central Church Administration is meant to be doing but most of it doesn't make for interesting reading. Meetings of officers to review the decisions of the Metropolitan Council. Email conversations about the Financial Development Committee. Meeting with Metropolitan Tikhon to plan his schedule for the next months and go over correspondence. Working on policies and procedures concerning misconduct matters. Planning for the Holy Synod meeting October 14-17. It may not be exciting, but as one of the OCA's diocesan chancellors told me recently, it's a whole lot better than dealing with scandals and confusion.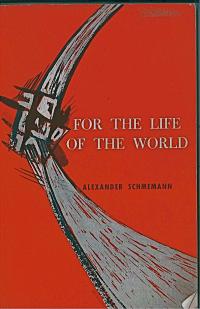 Something that is worth noting is the college-student conference being held tomorrow at Saint Vladimir's Seminary to celebrate the 40th anniversary of Father Alexander Schmemann's For the Life of the World. The book has been translated into over forty languages and has had a transformative effect on how people view Christianity. If you want to understand the sacramental and liturgical "eyesight" of the Orthodox worldview, then you really need to read what Father Alexander has to say. For more on the conference see www.svots.edu.