Psalm 12
Help, Lord, for no one is faithful anymore; those who are loyal have vanished from the human race.

Everyone lies to their neighbor;
 they flatter with their lips
but harbor deception in their hearts.

May the Lord silence all flattering lips
 and every boastful tongue—
those who say, "By our tongues we will prevail; our own lips will defend us—who is lord over us?"

"Because the poor are plundered and the needy groan, I will now arise," says the Lord. "I will protect them from those who malign them."

And the words of the Lord are flawless, like silver purified in a crucible, 
like gold refined seven times.

You, Lord, will keep the needy safe
 and will protect us forever from the wicked,
who freely strut about
 when what is vile is honored by the human race.
(New International Version)
Do you ever have days when everything is going well and you think the best of everyone and then suddenly something happens that forces you to remember humanity's fallenness? "Spinning" the truth, plotting, deceiving. Proud self-assurance. Loyalty tossed aside. Kind words of support in public while undermining in the background. Trampling the weak while pleasantly smiling and flattering.
When we're shocked we don't express ourselves in finely balanced words. We cry out to God. And Psalm 12 is for those days.
* * *
We use verses 1 and 7 a lot in our liturgical life. "Thou, O Lord, shall protect us and preserve us from this generation forever" (v.7). "Help, Lord, for there is no longer any that is godly" (v.1). These appear as prokeimenon or alleluia verses for Sunday (tone 5), the 1st Wednesday and 2nd Sunday of Great Lent and the wedding service.
Metropolitan Council Meeting Ends Today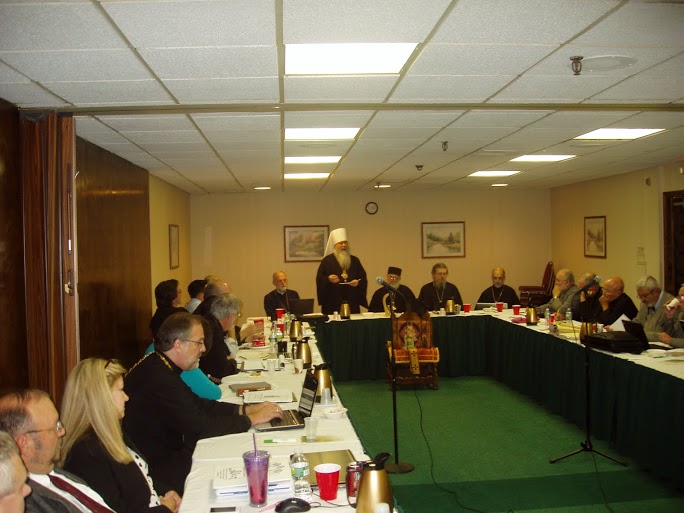 The Metropolitan Council meeting ends today with presentations about the pension plan and the next All-American Council, in 2015. We had a very productive set of meetings yesterday on legal matters, finances, the budget and financial development. A balanced budget for 2014 was passed and will be published in due course along with all the materials of the MC meeting.
The MC meeting ends at lunch, but at 2:00 pm the Board of Theological Education will meet to review candidates for the Diaconal Vocations Program as well as policies and procedures about selecting, training, evaluating, supporting and mentoring all candidates for ordination.