Psalm 2
Why do the nations so furiously rage together, and why do the peoples imagine a vain thing? (Psalm 2:1)
I can't hear these words without also hearing the furious music Handel wrote for them in the Passion section of his Messiah. The Psalm is read on Holy Friday at the First Hour. The book of Acts quotes these words (4:25-26), as the persecuted apostles prayed to God for strength, recalling that "thy holy servant Jesus, whom thou didst anoint" was also beset by hostile crowds. The passage from Acts continues as a beautiful psalm-like prayer of its own:
And now, Lord, look upon their threats, and grant to thy servants to speak thy word with all boldness, while thou stretchest out thy hand to heal, and signs and wonders are performed through the name of thy holy servant Jesus. (Acts 4:29-30)
The effect of their prayer was to dramatically restore their courage and determination. "When they had prayed, the place in which they were gathered together was shaken; and they were all filled with the Holy Spirit and spoke the word of God with boldness" (Acts 4:31).
The world is still full of violence against Christians. We pray for all those suffering persecution, especially most recently in Syria. But in our own daily lives we can also expect times of personal stress, if not outright persecution, because of our faith. Or maybe it's not even because of our faith, but just because life is sometimes like that. Whatever the source of oppression, "Blessed are all who take refuge in Him" (Psalm 2:11).
Update
Archbishop Duncan and the representatives of the Anglican Church of North America, together with Father Chad Hatfield and Father John Parker, finished their visit to the Chancery yesterday morning with a prayer service in the Anglican tradition followed by a paper and discussion on moral issues.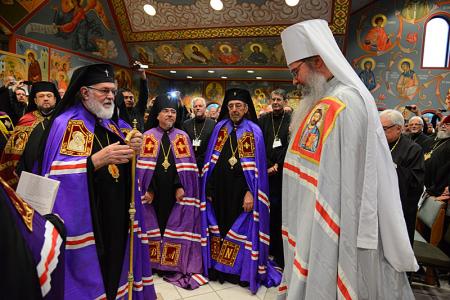 Metropolitan Tikhon is joining Archbishop Nathaniel and the Romanian Episcopate for their clergy conference and 81st Congress at the Vatra in Grass Lake, Michigan today through Saturday (see www.roea.org).