Asking for the Gift of Wisdom
If any of you lacks wisdom, let him ask of God, who gives to all liberally and without reproach, and it will be given to him.
But let him ask in faith, with no doubting, for he who doubts is like a wave of the sea driven and tossed by the wind. (James 1:5-6)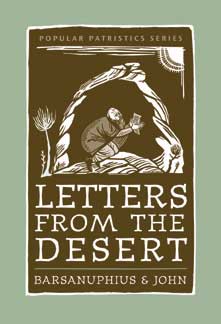 Among the saints commemorated today are the Venerable Barsanuphius the Great and John the Prophet, who lived near each other in the desert as hermits in 6th century Palestine. Their correspondence and answers to questions were preserved and influential and can be read in Letters from the Desert, translated and introduced by Deacon John Chryssavgis (SVS Press, 2003).
Here's an excerpt from one of the letters. Then as now people were looking for authoritative spiritual guides. But like the apostle James in today's epistle, Barsanuphius directs his questioner away from himself.
* * *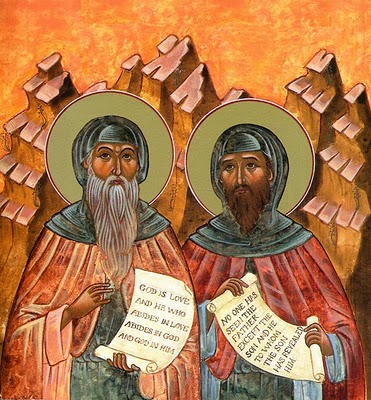 One of the hermits asked Elder Barsanuphius to pray for him in order that he might abandon the "old self." The Elder redirects the questioner to Jesus, the true physician of souls and bodies.
199. Listen, beloved brother, and dedicate your heart to keeping the sacred words spoken to you not from mortals but from the Holy Spirit. Jesus is the physician of souls and bodies. If you have a wound, I shall lead you toward him and pray to him to heal you in both, that is if you desire this. Our Lord, the Son of God, is the giver of all good gifts [James 1:17]; and I am asking him to grant you not only your requests but exceedingly more than you request or imagine; and he tells me: "If he too desires this, then I shall grant it." …He rejoices when we ask him. I am asking him to illumine your heart in order to understand how he desires to make you prudent as well, through my nothingness. I am asking for you to receive strength; you too should request this. I am asking for you to be a son of God; you too should labor with me and sweat. For the Son of God says, "Come to me, all you who labor and are carrying heavy burdens, and I will give you rest" (Mt 11:28).
Pastoral Changes
I'm told that one of the regular news items on the website that's most carefully read are the pastoral changes. You'll notice that a huge list was posted yesterday, everything from last August through December. Why the delay in posting? The plan at the end of the summer was to post them month-by-month, and that is still the plan. But we had a technical glitch. Greg Sulich, who compiles the list, sent a message yesterday to the bishops to explain what had happened.
The reason for the delay is problems that we have had with our old computer network server, which had to be replaced late last fall. One of the issues with the old server was that some files or documents were lost and not able to be retrieved via backup. My entire year's worth of the Pastoral Changes were some of the files that were lost. As a result, I had to re-create these from scratch, and in numerous cases had to do research through the files to discover what was missing.
Thanks Greg for this extra work. We now expect to post the pastoral changes every month.