Kyiv: Day 7 (July 27)
Yesterday began with a service of prayer (moleben) for the 1025th anniversary at St Vladimir's Hill overlooking the Dnieper River where the people of Rus' were baptized in 988. Among those present were the presidents of Ukraine, Russia, Moldova and Serbia. Most moving amid the impressive and in their own way inspiring displays of state and ecclesiastical pomp and power was the presence of the very weak and ailing Metropolitan Volodymyr of Kyiv. It made me think of the Lord's words to Saint Paul, "My strength is made perfect in weakness."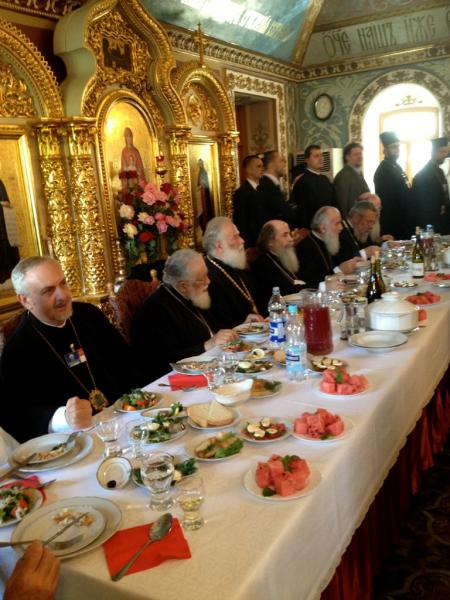 This was followed by lunch at the Kyiv Caves Lavra in the monastery refectory. The primates and heads of delegations then had a meeting and reception with President Viktor Yanukovich of Ukraine, and later visited with the Metropolitan Volodymyr. Meanwhile about 15 of the rest of us went to visit the caves and venerate the relics of the many saints preserved there.
At 7:30 Father Alexander Pihach, Father Leonid Kishkovsky and I met with the retiring US ambassador to Ukraine, John Tefft, whom Father Leonid has known for many years. We had a frank discussion about the church and church-state relations in Ukraine and Russia. Ambassador Tefft stressed the importance of religious and church identity in Ukraine.
On the schedule today is Divine Liturgy in the Lavra's Cathedral Square and a reception in honor of Metropolitan Volodymyr of Kyiv. Then we go back to the railway station and board the special patriarchal train for the eight-hour trip to Minsk in Belarus.
A photo gallery can be viewed on the OCA web site and Facebook page.