Kyiv to Minsk: Day 8 (July 28)
The Sunday Liturgy, commemorating Saint Vladimir (old calendar) was the height of the 1025th anniversary celebration in Kyiv. It was held outdoors at the Kyiv Caves Lavra in the square adjoining the Dormition Cathedral. With nothing to do but stand in the line of vested priests from the visiting delegations, on a beautiful summer day with a breeze coming through, I found it a very peaceful liturgy in spite of the huge crowd and hundreds of clergy. Patriarch Theodoros of Alexandria presided and at the end—after Patriarch Kirill's sermon—Patriarch Theophilos of Jerusalem gave a greeting in English from "Jerusalem, the Mother of all the Churches."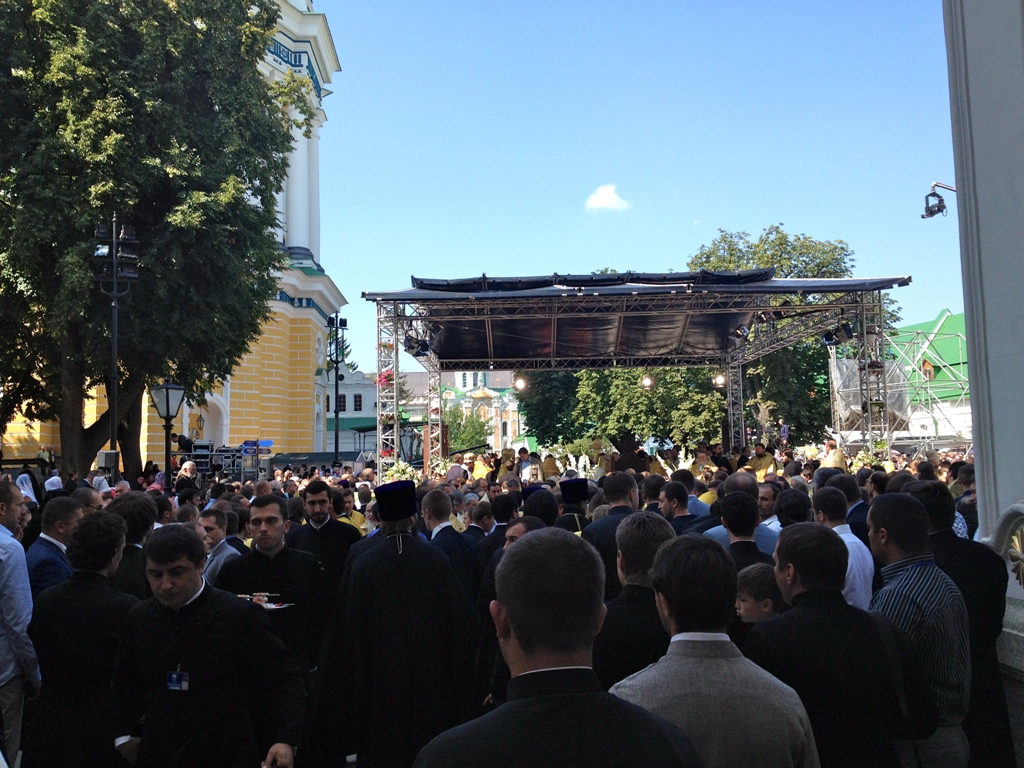 Seeing the Lavra so full of people, and the visit yesterday to the restored Near and Far Caves was one more piece of evidence of how much has changed here. I last visited Kyiv in 1982 and at that time the Monastery was closed, the Caves were only partially opened, but as a museum of atheism, and Ukraine was in the Soviet Union.
We walked through the Lavra and across the street to the Mistetsky Arsenal, now a museum with a vast columned open space for the reception. It was a very civilized event, with several forms of music throughout the afternoon. A string quartet playing Bach and Mozart, a folk orchestra, a choir of kamilavkad archpriests and—my favorite—a bandura orchestra of nuns from Rivno in Volhyn.
Mother Serafima, abbess of a monastery in Odessa stopped by our table. She came to Canada for a visit two years ago as part of delegation from Ukraine where she heads the Church's Commission on Church and Culture. She is a widely respected figure and was recently voted the woman of the year in Ukraine.
We also had the opportunity to speak briefly with the papal nuncio, Archbishop Thomas Edward Gullickson, who knew the Sheptytsky Institute and my Ukrainian Catholic colleagues in Ottawa where I was teaching until taking up the chancellor's post.
At 3:00 pm we boarded the bus for the train station and then the patriarchal train to Minsk, capital of Belarus, where we arrived at 11:30 pm. July 29th will be the last day of the 1025th anniversary program, with events planned from morning till night. Divine Liturgy with Metropolitan Filaret of Minsk, laying a commemorative wreath at the war memorial, a meeting of the heads of delegations with Belarus President Alexander Lukashenko, a concert and then a reception for the heads of delegations with President Lukashenko.
A photo gallery can be viewed on the OCA web site and Facebook page.